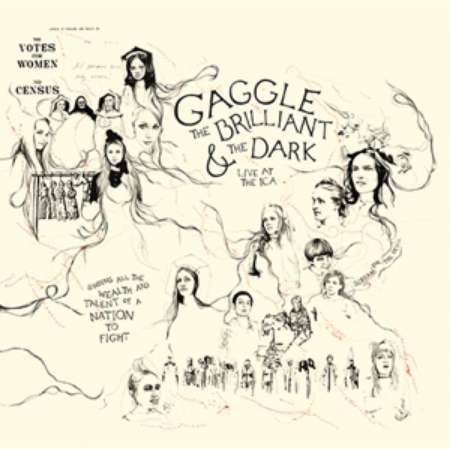 Gaggle -

The Brilliant and the Dark - LP

Gaggle's reworking of the 1959 cantata for women's voices

The Brilliant and the Dark is a limited edition 300 copy 12" to be released Record Store Day documenting a live performance at the ICA on 2nd Dec 2010 in which Gaggle were invited by artists Eileen Simpson and Ben White to re-interpret a 1969 cantata for women's voices.

The radically remixed cantata uses elements from "The Brilliant and the Dark", a work for women's voices composed by Malcolm Williamson and Ursula Vaughan Williams, and first performed by 1,000 women volunteers at the Royal Albert Hall.

The libretto approaches history from the Middle Ages to WWII through the eyes of women, via characters including witch-hunters, embroiderers, crusaders' wives, plague stricken women, mourners and war workers, transposed into a modern light by Gaggle including issues such as the importance of Suffrage or International Women's Day, and referencing issues such as militarized rape in the DRC.

The Brilliant and the Dark is released under a copyleft license - generating a new resource available for the future reflected by the B- side of the 12" containing samples from the performance for future artists to manipulate as they see fit.